New satellite imagery shows the recently finished launch site where North Korea plans to place a satellite into orbit. The upcoming satellite launch is to mark the 100th anniversary of founder Kim Il Sung's birth, in defiance of a newly signed deal to suspend nuclear tests and missile launches in return for food aid. North Korea claims that the agreement does not cover the peaceful use of space, while the United Nations, and United States argue that the launch vehicle is inherently "dual-use" and can be used to launch an Intercontinental Ballistic Missile.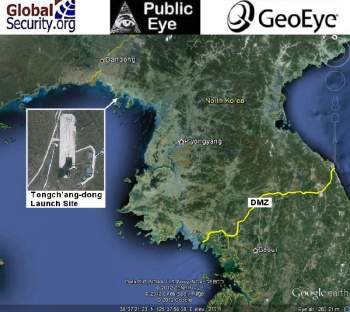 A map shows the Korean Peninsula, and the location of the new launch center. (Image Credit:GeoEye and Google Earth)

An close examination of the launch pad and umbilical tower, shows no sign of a missile or launch vehicle. Since the launch is planned to take place in the April 12-16 time frame, launch preparation activity will probably not be visible until about a week prior to the launch.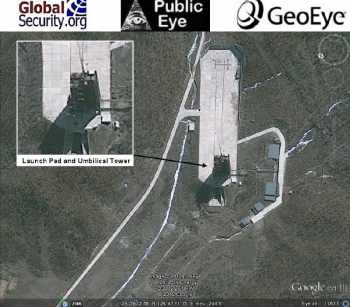 Detail of the launch pad and umbilical tower. No missile or launch vehicle are visible. (Image Credit:GeoEye and Google Earth)
The imagery obtained from GeoEye, taken on March 20, shows a completed launch pad, and the extension of a 15 mile rail spur that ends at the missile check out building.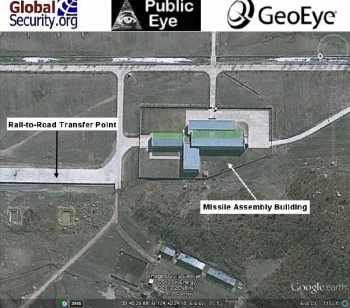 Detail of the Missile Assembly Building and the new rail-to-road transfer point. (Image Credit:GeoEye and Google Earth)

.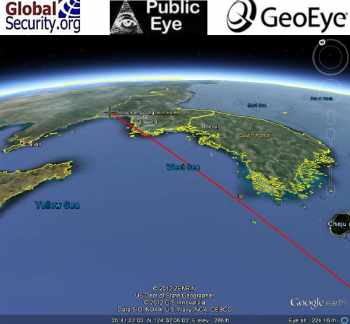 The location of the launch site allows the North Korea the ability to place a satellite in orbit without overflying South Korea territory. (Image Credit:GeoEye and Google Earth)

Located on the West coast of the Korean peninsula just 30 miles south of the Chinese border, the new facility has been under construction for several years. It is intended to replace the aging and remote launch site at Musudan-ri on the Northeast coast.
The launch date has been announced to fall between April 12-16th. The North Korean's plan to place the satellite in orbit in southerly direction thus avoiding overflight of South Korean territory.